'TUNES 4 TODDLERS' Music Groups 0-5yrs
"We'll take your little one(s) on a magical musical journey from birth until they start school. Our structured musical & sensory classes are designed to encourage newborn babies, tiddlers & toddlers to interact with each other & learn about the world around them through song, whilst bonding with their parents. They will learn basic social skills such as eye contact, communicating through touch and sharing instruments, clapping a beat, following instructions with action songs, colours, shapes, rhyming words, counting songs and much more...
NURSERIES & PRE-SCHOOLS
Tailored sessions can be conducted at your nursery or pre-school establishment which we are accustomed to offering on either a regular basis or one off special occasions.
LEARN THROUGH MUSIC
Tunes 4 Toddlers aims to enhance your child's Physical/Motor skills, Listening and Observational skills as well as enhance their confidence socially. Dance and movement activities are explored and using instruments are encouraged alongside copying 'action songs'.
"We sing a wide variety of rhyming and rhythmic songs, which help with vocabulary and mathematical understanding. We change themes weekly and play singing games & nursery rhymes, use musical instruments, puppets and various other sensory stimulants teaching you how to interact with your child through music"- Maria.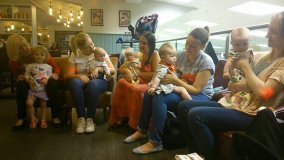 Maria teaches techniques to parents how to use music and movement to calm babies, interact with toddlers and help them learn about the world around them whilst bonding, with proven results. Click the
REVIEWS
WHEN & WHERE
Biweekly 30 minute sessions consisting of action songs, interactive props & instruments and musical fun
*TUESDAYS
Weekly All Ages 10.30-11am 30 min session at Zoomania Softplay Centre
*FRIDAYS
Weekly All Ages 10.30-11am 30 min session at Zoomania Softplay Centre &
Weekly All ages 11.30-12noon 30 min session at Stay n Play Softplay Centre
FREE
Parking at all venues - including easy access for pushchairs and wheelchairs. Baby changing & disabled toilet facilities.
(It is advisable to ring before attending the sessions)
.
TO BOOK:
CONTACT US
to come and join the fun. All Children must be accompanied by a parent or guardian to each session. Please enquire within for a venue near you!
REVIEWS
*BUCKS COUNTY COUNCIL-
Melanie Chilvers (Communications and Projects Officer-Children & Young People) says:
"A Big Voice provided a super interactive 'Tunes for Toddlers and Tiddlers' stage session as part of a varied programme of demonstrations in the Buckinghamshire County Council marquee at the Bucks County Show on 1 September 2011. The parents and children obviously enjoyed the opportunity to join in with some well known songs and all soon got the hang of the actions. We would like to thank Maria for coming and bringing her enthusiastic approach to singing to the show. Just wanted to say thank you very much for joining us. It was a great success and I hope you enjoyed it as much as we did! Best regards".
Melanie Chilvers - Communications and Projects Officer -
Children & Young People's Service Portfolio Buckinghamshire County Council.
*BARNARDOS- Childrens Charity August 2011
Robyn Roberts (Little Breaks Coordinator).
"Dear Maria, Thank you for coming and singing with us at 'Little summer breaks'. Both staff and children really enjoyed the sessions.
As a service which caters exclusively for children with Additional Needs and disabilities it can be difficult to find entertainers who are inclusive and meet the needs of our children, but having talked to the staff they felt that your session was very inclusive and the children really engaged with the content. Thank you for following our under the sea theme, it really enhanced our session.
I am happy to recommend you to parents and other professionals in the future.
Warm Regards
Robyn".
*June 2011 Sally says:
FANTASTIC group. You really do get so much more for your money, rather than some of the other music groups which just play music. Maria is so enthusiastic all the children love her and are engaged throughout the entire session. My daughter has loved going since she was born. She is now over 2 and loves joining in with the now-familiar songs and dancing away! Educational as well as fun - highly recommend this group to any mums in the area.
(Click the 'TESTIMONIALS' section above, for more parent and client reviews)