KIDS PARTY ENTERTAINMENT now Online too
ALL YOUR ENTERTAINMENT NEEDS
We will take care of all your Children's entertainment needs. Whether you are organising a
*
Birthday Party
, *
Christening
, *
End of Term
Celebrations, *
Wedding
, a *
Disco
, *
Fete
Festival
or *
Community event
, when you let A BIG VOICE look after you, rest assured the children of mixed ages will be engaged and entertained. Big or small event, we've got this.
"Jane Fraser Says: The best party they'd ever been to. Great praise to you indeed"-Jane Fraser.
REVIEWS
HOME or HIRED VENUE / IN or OUTSIDE
We offer both live interactive online parties as well as in person visiting you either at home, your establishment or hired venue.
A BIG VOICE
offers a
'ONE STOP SHOP'
for all your entertainment needs, making it easier to source everything from one place, at great value for money.
*Party Host Entertainer, *Music & P.A.Tested Sound System & Coloured *Disco Lights, Character Mascots, Bouncy Castles, Face Painters, Photographers, Cake Makers and Recommended Caterers and Party Bags
Contact us to receive our detailed information, package options and booking details.
COSTINGS:
Provide us with your event and contact details for a quote.

ENTERTAINMENT OVERVIEW
We provide interactive musical party/disco fun, suitable for all your little one(s) aged between 1-10 years, both mainstream children and those with special needs. We take children on a magical, musical, sensory journey, playing a mix of modern and traditional party games, a wide variety of age appropriate music, action songs, team activities and story telling can be part of the fun filled entertainment.

Live Online Interactive Entertainment offers

children the novelty of interacting with Characters, puppets and the entertainer by asking them questions, sharing jokes, storytelling, action songs and interactive games as well as chatting with the enjoyment of screen shared sing along videos and fabulous backdrops and photo opportunities.

Live In Person Interactive Entertainment offers

children *Bubbles, *Puppets, *Instruments, *Karaoke Mic, *Giant Parachute Team Games, *Limbo and many more age appropriate activities and music.

BENEFITS
With various packages and options to choose from, you will be given a party tailored to your requirements as A BIG VOICE Children's Entertainment success is due, in no small part, to Maria who, with a background in Performing, Singing and Entertaining, entertains children with the same enthusiasm and passion she does for her own family and friends parties. Maria's small but wonderful team of professional, skilled and dedicated individuals have all been trained by Maria, to deliver equally fun and expertly hosted children's entertainment to match her high standard.


OPTIONAL SPECIAL EXTRAS
To make the occasion really special consider adding one or more of the following for just a little extra cost;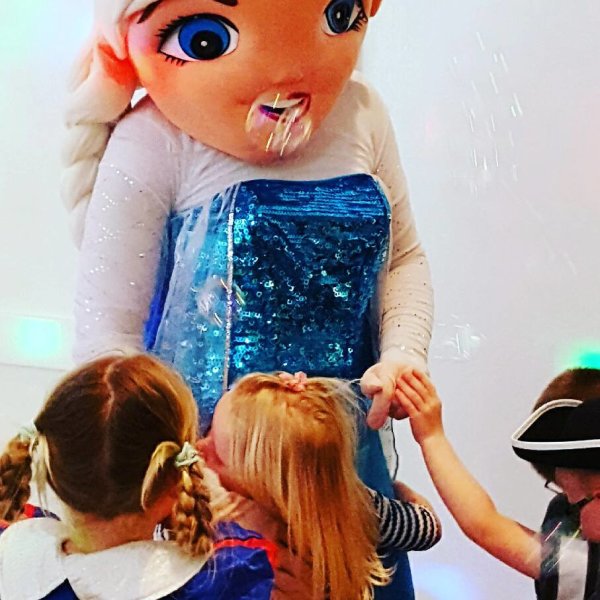 CHARACTER APPEARANCES
See the children's faces light up as they see their favourite character pay a surprise visit at their party. 30 minutes of 'meet and greet', posing for photographs and assisting with the presentation of the birthday cake before leaving:
Princess Elsa from Frozen, Cinderella, Micky & Minnie Mouse, Pepper Pig, Super Heroes: Batman, Spiderman, Captain America, Scooby Doo, Winnie The Poo, Mario & Luigi, Sonic The Hedgehog, Toy stories: Woody, Buzz light year, Jessie the cowgirl & Bulls-eye the horse, the 4x Ninja Turtles, Hello Kitty, Ben Ten, Spanish Dora the Explore, In The Night Gardens; Iggle-Piggle & Upsey-Daisy, Bob The Builder, Pink Fluffy Unicorn, Jake-Neverland Pirates, Christmas Elves, Father Christmas.



PROFESSIONAL PHOTOGRAPHER


One of our team of professional Photographers will come and capture your special celebrations on film for you to look back on and reminisce …for a minimum of two hours duration of photography including 50 digital photos. Various packages available.

FANCY DRESSED ENTERTAINER
Entertainers can dress to impress and reflect the theme of your party i.e Princess, Pirate, Superhero, we'll have a go at whatever you like.



BOUNCY CASTLES


For 1.Toddlers or 2.Big Kids inflatables or 3.Large, adult-friendly, bouncy castles can be hired independently or part of our entertainments package.




PROFESSIONAL CAKE DESIGNERS


Celebrations are never complete without cake as the centre piece! Whatever size, shape, design, be it cupcakes, a Birthday cake or a 5 tier Wedding cake, our team can bake you a delicious work of art.

CATERING & PARTY BAGS whist we do not provide either of these ourselves, we are happy to organise this for you, from our preferred suppliers whom we work in collaboration with, and therefore can get you great discounted deals on both hot and cold menu's and party bags, taking the organisational stress off you.



FACE PAINTERS

Our talented team of face painters will unleash their creative skills on the faces and arms of your party guests. Watch them transform into their favourite character or have artistic designs painted on them, using skin friendly snazzaroo products, glitter and gems.

CONTACT US: BOOKING'S EASY
A) Please Email your event and contact details so we can calculate a personal quote.

LIE BACK AND LET US ENTERTAIN for YOU


A BIG VOICE - Kids Party Entertainment is a great way for your child to interact with you, their friends and family. Enjoy celebrating their celebratory event together with some musical giggles.

REVIEWS: They speak for themselves ...(See more on Yell.com, NetMums, Facebook, and other social media).

BIRTHDAY PARTY
Lorna says: Hi Maria, Thankyou so much for attending my daughters first birthday party. You were fantastic. So bubbly and enthusiastic the second you got out of your car. Even setting up you were entertaining the children.
From start to finish the entertainment you had chosen to do kept all of the children engaged. A massive thumbs up for going out of your way to engage the sulky child who was determined not to have fun and join in.
We were all so impressed by you and one of the other parents who was there will more than likely be booking you up in six months time when her little boy turns one.
Thanks again, Lorna

FESTIVAL
Tessa Clarfelt Senior Arts & Culture Programmer - Wilderness Festival, Oxfordshire says:
'A Big Voice provided excellent singing and entertainment workshops in the kids area at Wilderness Festival, enjoyed by all, thanks Maria!'
I hope you're very well. Best wishes Tessa

BIRTHDAY PARTY
Neranja Wijesena from Stadhampton, Oxfordshire Says:
"Hi Maria, Thank you very much for the most lively and enjoyable activities you brought into our little son's first Birthday celebration.Your presence was a great addition to the party. Many thanks and Best wishes Nera and Kremlin"

BIRTHDAY PARTY
Jane Fraser Says: Maisie had a great time at her 4th kids birthday party and I've since had some comments from the other parents to say their kids loved A BIG VOICE party and a couple of them even said it was the best party they'd ever been to :o) Great praise to you indeed. Thanks again. Jane

BIRTHDAY PARTY
Rachel says: I'd met Maria through attending her 'A Big Voice-Tunes for Toddlers's Music Group when my daughter was younger. With her 3rd birthday looming, knowing how much she loves singing, dancing and music in general I read that Maria now hosts Musical parties. I hired Maria for the party and was certainly not disappointed! The children loved it and were happily joining in the singing, dancing and party games (as were the adults!). Favourites were puppets, bubbles, pass the parcel, musical statues and the parachute game/songs. I would have no hesitation in recommending Maria. Rachel March 2012

BIRTHDAY PARTY
(Dinton) Bev says:
would highly recommend A Big Voice Party Entertainment for your little ones. My daughter just turned four and had an amazing time at her party. Maria (the lady that runs 'A Big Voice') is so friendly and the kids just loved her. Very age appropriate games/songs tailored to meet your childs likes. excellent value for money. Don't hesitate book today :)